Vincent Munier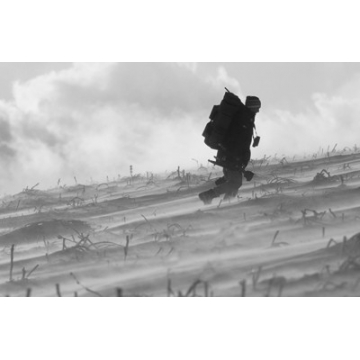 "I try to express an emotion, to show the beauty of nature, its mystery and strength."
Lover of the great wild landscapes and traveler of the extreme, Vincent Munier has chosen photography as a tool to reveal his dreams, his emotions and his encounters. Inspired by Japanese painters and minimalist art: mist, rain, snow or blizzard enhance landscapes and animals, of which one distinguishes sometimes only the silhouettes. 
The snow leopard, white wolf, brown bear, snowy owl or musk ox are a few of the species he continues to explore through committed expeditions, alone and in autonomy.
In 2013, he spent a month alone and without assistance on the icy island of Ellesmere, in the Canadian Arctic, at 80° north latitude. A pack of nine white wolves came to face him: these "ghosts of the tundra" are the focus of his book Arctic (2015).
In 2018, he invited the travel writer Sylvain Tesson on the steps of the snow leopard: two photographic books were published, Tibet, mineral animal and Promise of the invisible.
The film The Velvet Queen (2021), co-directed with Marie Amiguet, received the 2022 César for best documentary film.